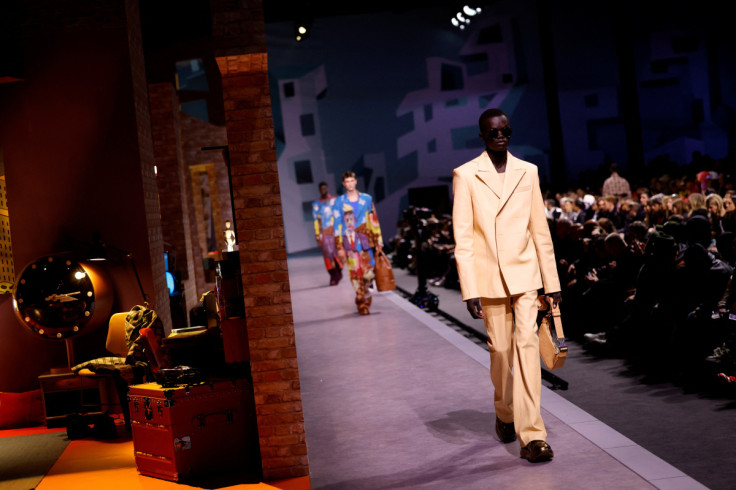 An average of 18.8 million people tuned in to watch King Charles' Coronation, according to TV ratings agency Barb, while 12 million continued watching the coronation concert that took place later during the day.
However, while many online were gushing about the King and Queen along with various other performances during the 2023 coronation, another act during the coronation concert has perhaps gone undervalued.
Streamed live on the BBC, celebrated fashion designer and environmentalist Stella McCartney delivered a spectacular spoken word performance which highlighted environmental concerns and emphasised the necessity of conservation.
To the millions of viewers that were watching, McCartney announced: "We have also seen much of our natural world change and become shockingly unrecognisable." While reciting her spoken word presentation, McCartney was accompanied by an exquisite light show depicting various different kinds of flora and fauna, which was exhibited on the screen behind her.
McCartney also reminded viewers: "What we do to the ocean and to nature, we ultimately do to ourselves. As stewards of this precious planet, it is our actions and our actions alone that determine its future. The work of healing our planet should be and must be the cause that unites us, never the cause that divides us."
McCartney's performance comes after recent controversies surrounding what has come to be known as the "fast fashion" industry, a term used to define the practice of mass production of textiles and clothes at a low cost and then bringing them quickly to retail.
The publication of a report conducted by the Ellen MacArthur Foundation published in 2022, revealed that the fast fashion industry is responsible for 10 per cent of global carbon emissions every year, accounting for a higher amount than all international flights and maritime shipping.
Textile waste is also becoming a looming issue, with half a million tons of plastic microfibers being dumped into the ocean every year, corroborating statements which warn against the dangers of unsustainable fast fashion. Emissions generated by fast fashion are also predicted to increase by 50 per cent by 2030, should the current growth of the industry continue.
However, despite the worrisome trends, McCartney has gone down an alternate route, choosing instead to prioritise eco-friendly and sustainable means of production in lieu of mass production.
Instead of using the typical cattle and calves for their leather, McCartney's company has invested in what is known as vegan leather. In 2022, McCartney launched the world's "first-ever luxury bag crafted from Mylo", a type of leather created from mycelium, the root-like structures of fungi, as detailed on their website. McCartney's "Mylo" is an alternative to fossil-based synthetics, which minimises the negative impact production has on the environment.
On top of the vegan leather, McCartney also continued on devising other solutions to using animal parts for fashion.
Harnessing the power of biotechnology, McCartney's company has ingeniously invented a new variety of silk, which has been dubbed "Microsilk". With the aid of the biotechnology company "Bolt Threads", her company was able to produce a new type of material which was created by replicating the processes spiders use to create their silk.
Studying the DNA of arachnids and the characteristics of the fibres they make, Bolt Threads has created a vegan alternative to using animals for silk, as "Microsilk" has a less negative impact on the natural environment, as well as creating cleaner processes for manufacturing, by using green chemistry practices.
One can only hope that McCartney's environmental success would motivate other fashion companies to go down a similar route. Recently, British factories received millions in funding to improve energy efficiency and push towards net zero by 2050.
This article is copyrighted by International Business Times, the business news leader