King Charles III travels to Wales today for the last of his UK visits as preparations for Queen Elizabeth's state funeral gather pace.

With queues to view the coffin of the queen lying in state reaching over 6km long, the children of the late queen were due to hold a family vigil in front of the coffin.

The so-called Vigil of the Princes, with all four royals in ceremonial military uniform, will last for 15 minutes.

Officials have pledged "a fitting tribute" to the queen, who died last Thursday at the age of 96 after 70 years on the throne.

Her death has triggered an outpouring of emotion, with tens of thousands queueing for hours to pay their respects to the late monarch.

King Charles is due to fly by helicopter to Cardiff early this morning, and a spokesperson for the king said would have a private audience with Welsh First Minister Mark Drakeford during his visit.

The king was "resilient and hard working" despite his loss, and "focused on leading the family, the nation and realm and the Commonwealth in mourning for Queen Elizabeth II", he added.

The queen will be honoured with a state funeral at Westminster Abbey on Monday morning, with more than 2,000 guests expected.

After the service, the coffin will be transferred by royal hearse to the queen's Windsor Castle home, west London, before a committal service at St George's Chapel attended by many past and present royal staff.

A private burial will follow attended only by members of the royal family in which the queen will be laid to rest alongside her late husband Philip, her parents and sister.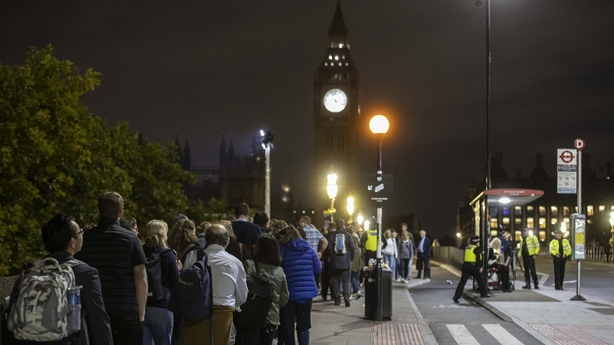 President Michael D Higgins, Taoiseach Micheál Martin, US President Joe Biden, Canadian Prime Minister Justin Trudeau, Australian leader Anthony Albanese and France's Emmanuel Macron are all expected to attend the funeral, as have Japan's Emperor Naruhito and numerous other royals.
"The queen held a unique and timeless position in all our lives," funeral organiser the Duke of Norfolk Edward Fitzalan-Howard, also known as the Earl Marshal, told reporters at a briefing.
"It is our aim and belief that… the next few days will unite people across the globe and resonate with people of all faiths, whilst fulfilling Her Majesty and her family's wishes to pay a fitting tribute to an extraordinary reign," he said.
The state funeral follows four days of the queen's coffin lying in state at Westminster Hall, which has been taking place since Wednesday and has attracted a seemingly endless stream of mourners.
The casket is draped in the Royal Standard flag, with the Imperial State Crown, her ceremonial Orb and Sceptre on top, with tall, flickering candles at each corner.
Mourners have marked their moment in front of the coffin in various ways, from bows or curtsies to the sign of the cross or by simply removing their hats.